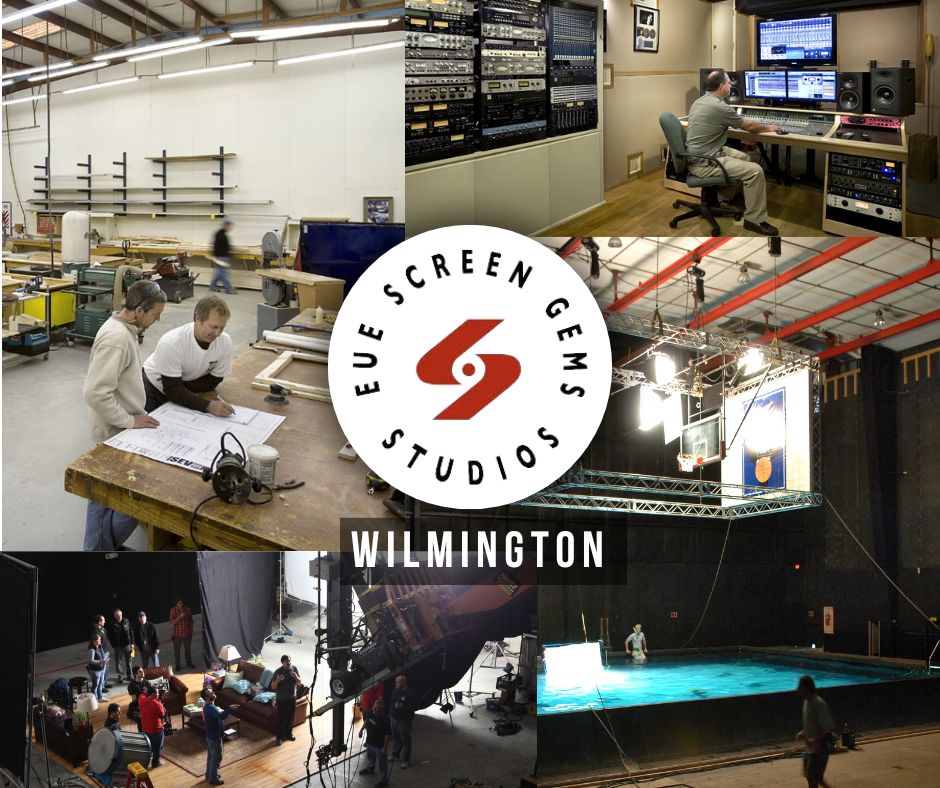 January 5, 2023
EUE/Screen Gems' Wilmington studios puts decades of experience to work for today's productions
The full-service studio space at EUE/Screen Gems Studios in Wilmington, NC, has everything a production needs — multiple mills, set dec/prop storage, wardrobe space, special effects shops, water facilities and turn-key production offices.
Yet it's the team at EUE/Screen Gems and their decades of experience that turns artistic vision into reality.
"From maintenance to accounting to lighting and grip, the depth of experience of our team at our studios is outstanding," said Bill Vassar, Executive Vice President of EUE/Screen Gems. "Each member of our Wilmington leadership team has a deep understanding of our clients' needs and makes it a top priority to exceed expectations. It's why our clients continue to come back to Wilmington."
In the past 40 years, EUE/Screen Gems Studios Wilmington has hosted more than 400 films, commercials and television projects at its 43-acre, 10-stage campus that includes a 112,000-gallon special effects water tank and the "Dream Stage," a 37,500-square-foot space.
Thoughtfully designed, EUE/Screen Gems' purpose-built, full-service facility meets the specialized needs of productions. Every stage is column-free, providing a clean line of sight, with several 16-foot-wide doors that allow for maximum efficiency when building and striking sets. The power grid provides enough amps to satisfy the most challenging special effects and lighting demands. All buildings and stages are connected by underground fiber optics and every square foot of each building is equipped with wired multiple access points.
One of the largest lighting and grip operations in the Southeast is run by an experienced team that optimizes its deep resources to support multiple productions simultaneously. The team is committed to providing every production with the right equipment for the job in the timeframe required — offering recommendations and working with outside vendors, too.
The massive studio complex is kept in pristine condition by the operations department. Experienced in construction, mechanical maintenance and project management, the team keeps the building and its equipment up-to-date, ready for new productions to move in and on hand to accommodate each client when necessary.
When it comes to servicing clients' creative visions, the Wilmington location has sound studios solely focused on audio post-production led by a veteran sound editor. EUE/Screen Gems Sound services include ADR, voice over, podcast recording as well as mixing, sound design, and editing. It is the only professional studio in Wilmington with Source Connect, positioning productions to work in real-time with any studio in the world.
Recent productions hosted at the studio include "The Summer I Turned Pretty," Seasons 1 and 2 (Amazon Studios); "The Black Phone" and "Halloween Kills" (Blumhouse/Universal); "Scream 6" (Spyglass Media Group); "Echoes" (Netflix); and "George & Tammy" (Showtime).
"We continually adapt to what the production industry needs," said Chris Crowder, Vice President of Physical Operations at EUE/Screen Gems. "Flexible spaces, health and safety protocols, best-in-class facilities and team — those are all examples of our commitment to provide top-quality services to our clients."