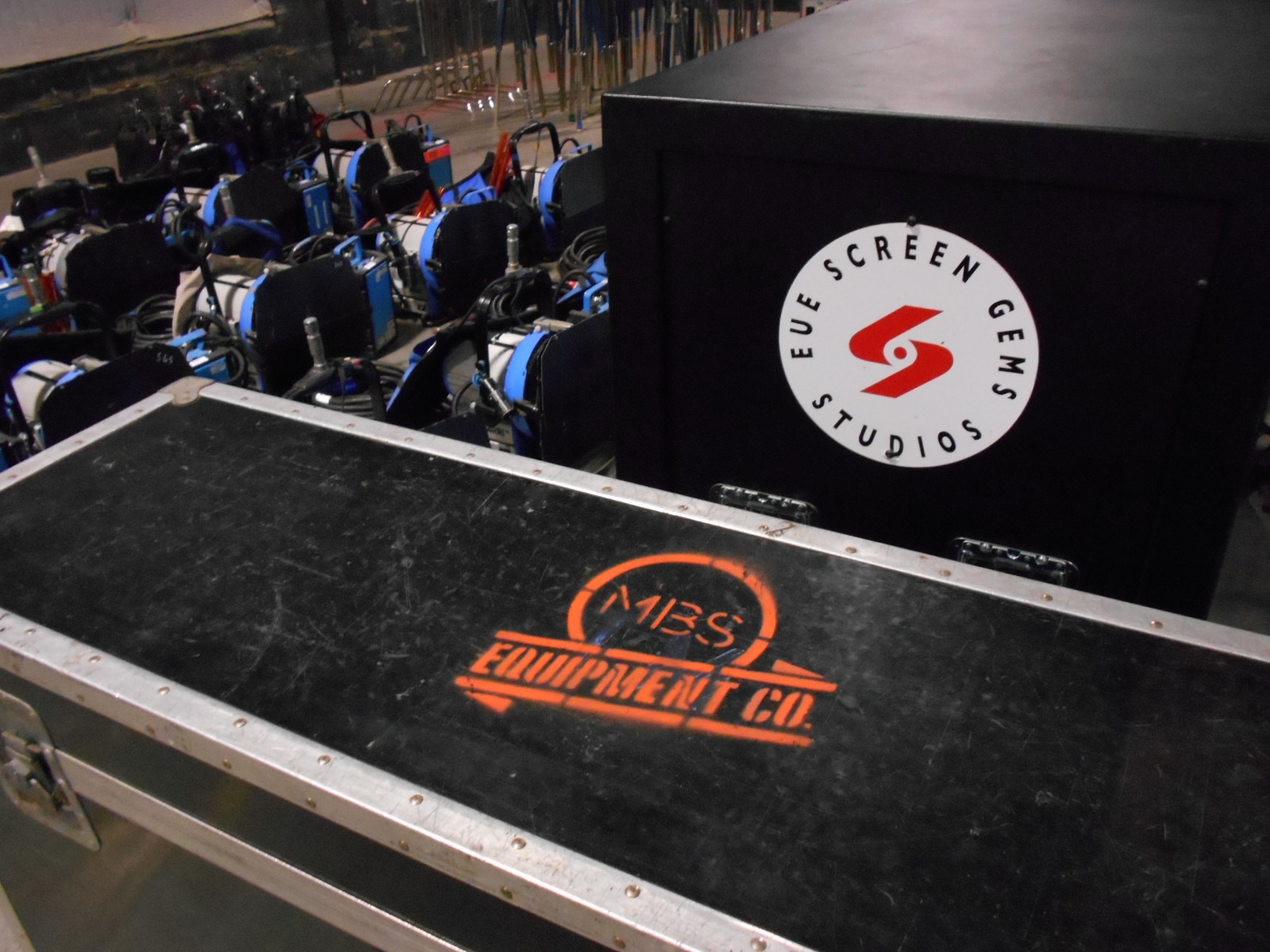 February 23, 2016
EUE/Screen Gems Studios Atlanta Expands Lighting and Grip In Response to Growing GA Industry
The production studio announces a new, dedicated lighting and grip facility and a strategic relationship with MBS Equipment Company to expand inventory.
May 9, 2018 UPDATE TO THIS PRESS RELEASE: Since this 2016 announcement, EUE/Screen Gems Studios Atlanta has added an additional 10,000 feet of space to the initial 20,000 sf space. The current lighting and grip facility is now a 30,000-square-foot warehouse. 
EUE/Screen Gems Studios Atlanta is expanding lighting and grip services for its on-lot and location clients. Today, the studios announced a strategic relationship with lighting and grip supplier MBS Equipment Company. MBS is based in Manhattan Beach, Calif. with regional operations in Hawaii, New Mexico, Louisiana, Georgia, New York, Vancouver, British Columbia and the United Kingdom. In addition, EUE/Screen Gems Studios Atlanta has opened a new 20,000-square-foot, dedicated lighting and grip facility.
The decision comes in response to the continued growth of the film and television industry in Georgia. Gov. Nathan Deal and the Georgia Film, Music and Digital Entertainment Office announced in July that film and television productions in the state generated $1.7 billion in direct spending during the 2015 fiscal year. In fiscal year 2015, 248 productions shot in the state, up from 158 productions in fiscal year 2014. The news also allows EUE/Screen Gems Studios to capitalize on 45 years of experience supplying client lighting needs in New York City, Wilmington, NC, Atlanta and Miami.
"Today's announcement deepens our company's multi-million dollar lighting and grip investment here in Georgia," says Kris Bagwell. Bagwell serves as executive vice president of EUE/Screen Gems Studios Atlanta. "Our clients will continue to enjoy exceptional lighting and grip service on site, and MBS increases our stock of globally respected, high-tech brands. Now, we can supply our clients faster than ever."
Bagwell says the deal will expand the number of newer, energy-efficient offerings, including:
ARRI SkyPanels – a new, LED soft light known for its versatility, output and quality
Kino Flo Image 87 DMX – offers large soft light coverage and easy rigging
ARRI L-Series L7-C Color LED Fresnels – 25 percent brighter than earlier versions
Quasar Science Q-Line S-Switch LED Tubes – offers dimmer compatibility, and 25,000+ hour lifetime
In addition, EUE/Screen Gems Studios Atlanta will also now offer:
5-ton and 10-ton electric and grip trucks
Electric and grip truck packages
1700-amp tow packages
Michael Newport serves as Executive Vice President of MBS3, the management company that oversees MBS Equipment Company and MBS Media Campus, a full-service studio in Manhattan Beach, Calif. He says the new partnership works because "MBS is much like EUE/Screen Gems Studios in that we also own and operate our own studio in Manhattan Beach with our own lighting and grip department, so we understand that dynamic and how it relates to production. EUE/Screen Gems has made a significant investment into their lighting and grip inventory, and we're here to help support that. The two companies also share the same commitment to customer service."
About EUE/Screen Gems Studios
In 2010, EUE/Screen Gems Studios Atlanta was the first major studio infrastructure company to locate in Georgia. The 10-stage campus resides five minutes south of downtown Atlanta. More than 30 productions have shot at the facility, including "The Hunger Games: Mockingjay" Parts 1 and 2 (Lionsgate), "Flight" (Paramount), "Satisfaction" (NBC Universal for USA Network), and "Devious Maids" (ABC for Lifetime). studios.euescreengems.com/atlanta
EUE/Screen Gems Studios also supplies production space, studios, technological infrastructure and support for movie, film and commercial producers at studio complexes in Wilmington, N.C. and Miami in addition to the Atlanta campus. On the West Coast, EUE/Sokolow produces new content. The company is headquartered in New York City. euescreengems.com
About MBS Equipment Company
MBS Equipment Company is a global equipment company with exclusive studio partnerships and outposts in the United States, Canada and the United Kingdom. The largest studio based equipment company in the world, MBSE is part of the MBS group that also includes MBS3 and MBS Media Campus. The media campus houses James Cameron's Lightstorm Entertainment, among others. mbsequipmentco.com