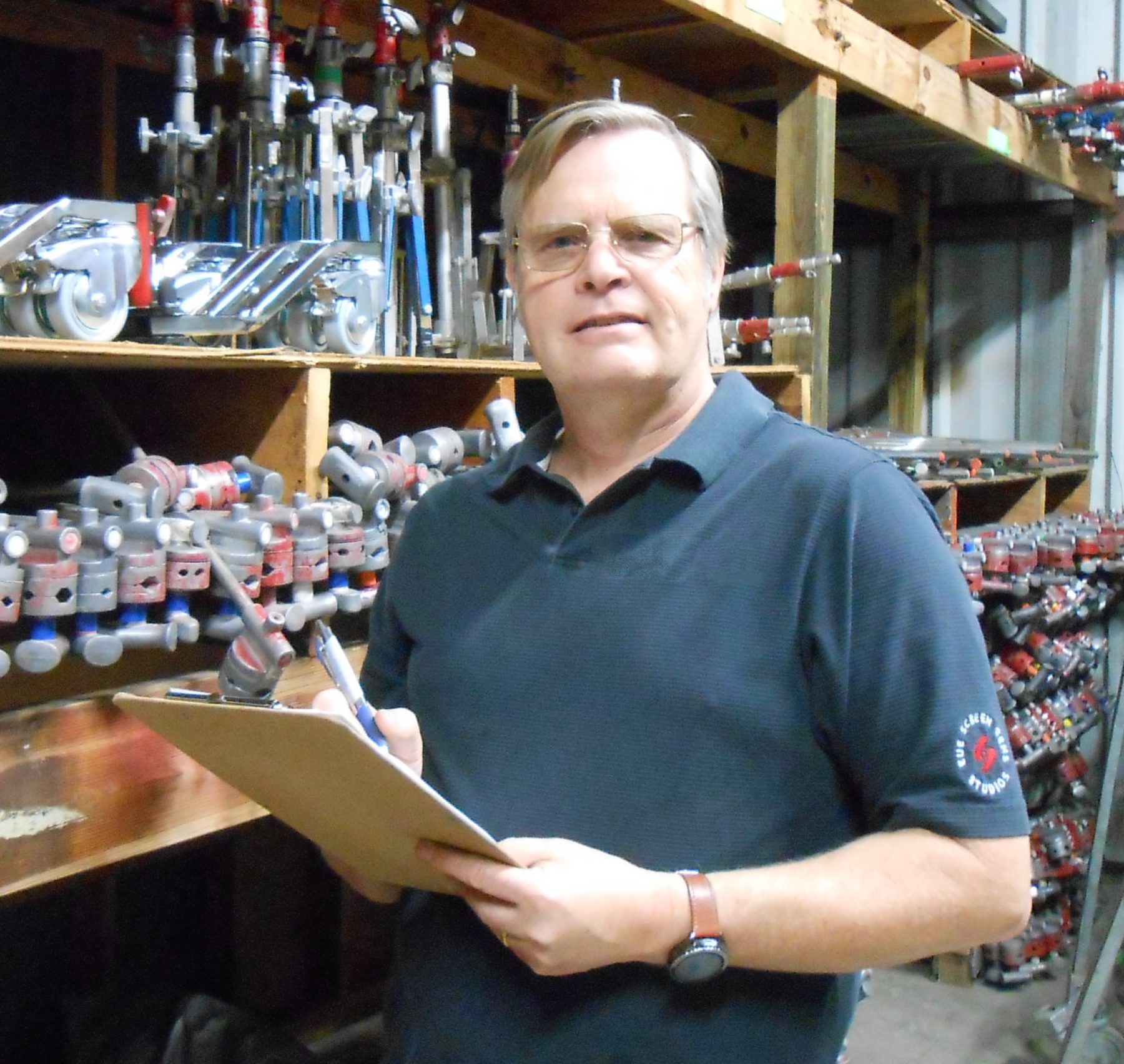 April 22, 2019
Simon Carey brings decades of experience to Wilmington's Lighting and Grip Department
Like many visitors, once Simon Carey experienced the beauty, hospitality and history of North Carolina, he never wanted to leave. And he didn't.
More than 20 years after that first visit from his home in a village near London, Simon is still in North Carolina, establishing roots in Wilmington and building a career at EUE/Screen Gems.
As the Lighting and Grip Department Rental Manager at the Wilmington studios, Simon and his crew provide equipment for productions ranging from small independent movies to complex, multi-million productions like "Iron Man 3."
"This is my kind of job," says Simon, who has worked with EUE/Screen Gems since 1998. "Every day is different. Every day is an interesting challenge for me. I could never work in a cubicle all day — and I don't have to."
Simon and his team's main goal is to support the production. They pride themselves on solving problems and ensuring productions have the equipment they need, when they need it.
"Our lighting and grip department is located at the studio and it's a real benefit to productions filming on our lots," says Simon. "If they have an issue, they can just walk over, and we can get them what they need right away. It keeps the production going and saves time and money."
Simon started off in shipping and receiving at a home goods store in Buckinghamshire, England. After a divorce, he came to Wilmington to visit a friend "and the rest is history," says Simon. On that trip, he met the woman he would later marry, and today has three children and a number of grandchildren. "I fell in love with both area and my wife," he says.
Simon's path into the film and television production business began at a wrap party with a neighbor who worked as a makeup artist. A connection he made at the party led to his first industry job at a lighting and grip rental company where he learned equipment and flying condors.
One of Simon's favorite memories in the movie business is flying condors for "Iron Man 3," filmed at EUE/Screen Gems' Wilmington studios. He spent several weeks at the docks shining lights on helicopters for the movie's climatic final scene.
Simon and his manager, Lawson Sitterding, bring decades of experience to EUE/Screen Gems' Wilmington-based productions. "Some gaffers know exactly what they want. But sometimes we get smaller productions like a commercial, where there are few details," says Simon. "We can lead them to where they need to be."
Simon and Lawson work with the productions to determine what they are shooting, where they are shooting, and budget constraints. They know what it takes to make the situation work and can advise them on the best package and list of equipment to fit their needs.
When asked about a favorite production, Simon quickly recalls one of his first with EUE/Screen Gems, "Dawson's Creek." Based at the Wilmington studios in the late 1990s and early 2000s, the six-season series about four adolescents won multiple awards, including Best Drama in the Teen Choice Awards.
"I thought it really wouldn't go anywhere because who would want to know about a bunch of high school kids?" says Simon, "Boy was I wrong … that cast and crew were great to work with — it was great fun."